A consultation meeting on Girls Education Project that will be implemented in Gambella and Somali Regional States was conducted on 11 November 2013 at the premises of the Ministry of Education in Addis Ababa. The meeting was called to discuss the start of the implementation of the Japanese Government supported project that aims to decrease the dropout rate of girls and increase their learning outcomes in lower secondary education in the two emerging regions of Gambella and Somali.
The Deputy Head of the Gambella Regional State Education Bureau, and the Non Governmental Organizations Coordinator from the Somali Regional Education Bureau, representing the Region's Education Bureau Head, and the gender focal persons from both regions attended the meeting. Ms Rabenoro, Senior Program Specialist of UNESCO-IICBA welcomed the participants on behalf of the director of the Institute, and expressed her appreciation of their effort to attend the meeting.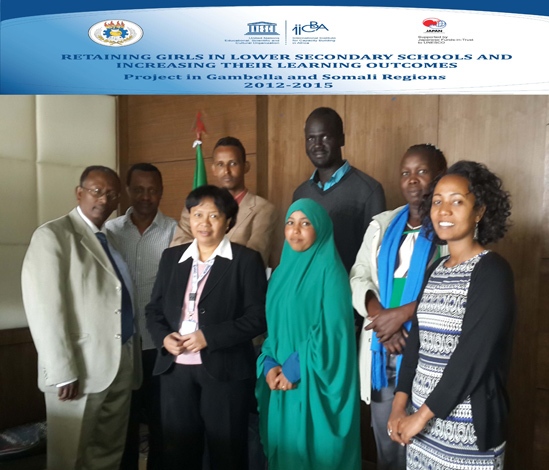 Mr Mohammed Abubeker, the Director of Emerging Regions Directorate, Federal Ministry of Education of Ethiopia, opened the meeting. Mr Mohammed stated that the Government of Ethiopia is doing its level best to narrow the gap among regions by giving emphasis to the emerging regions of the country. He stressed that this project will have a positive impact on the government's effort towards education.
During the meeting, a briefing was given on the project and participants gave their comments on the project and its overall implementation. They also discussed and agreed up on the selection criteria of the six pilot schools. It has been disclosed that a project team from IICBA shall make a visit to the schools to be chosen soon in order to gather essential baseline information and confer with the stakeholders within the locality where the schools are located.